Summing Up The Week
Despite inflation reports coming in slightly hotter than expected and gas prices beating on the U.S. consumer, the markets took the news in stride, rallying for the majority of the week in spite of less than stellar reports… until Friday, that is.
Let's take a look at the news that moved the markets this week…
CPI rose 3.7% vs 3.6%, slightly higher than expected
While analysts were expecting the Consumer Price Index (CPI to come in hot, on Wednesday, the CPI came in even hotter than expected, rising 3.7% from over a year ago versus the 3.6% expected, reported CNBC. The slight difference between expectations and reality meant the markets, surprisingly, had already priced in the inflation and didn't sell off.
Going into next week's Federal Reserve meeting, the markets have priced in a pause with near certainty. While it may be likely the Fed won't raise interest rates at next week's meeting, should they decide to throw one out there, the markets will most definitely be thrown for a loop.
PPI rose 0.7% in august, higher than 0.4% expected
On Thursday, the Producer Price Index (PPI), which measures wholesale prices, came in hotter than expected, too, at 0.7% in August versus the 0.4% estimate and the biggest monthly gain since June 2022, reported CNBC.
This indicates that inflation is still hitting what producers pay for goods and services, however the market offset the bad news by looking at the core PPI excluding food and energy which showed an increase of 0.2%, in line with expectations.
As a result, the markets took the figure in stride and rallied during Thursday morning trading following the release of the report.
Retail sales rose 0.6% in August due to high gas prices
On Thursday, the U.S. retail sales report showed in an increase of 0.6% in August, reported the AP. While an increase in retail sales typically indicates a strong consumer buying more goods and services, the report also indicate the largest increase was due to the spike in gas prices as oil once again crossed through the $90/barrel mark.
The national average price for a gallon of unleaded gasoline hit $3.86 last week. Of course, since I live in the Pacific Northwest where gas is notoriously expensive, this represents a huge discount as I just paid $5.61/gal to fill up my car. Ouch.
UAW strikes all 3 U.S. auto manufacturers
Unable to reach a deal by Thursday evening at 11:59 p.m., the United Auto Workers labor union launched strikes against all three U.S. automakers starting Friday morning, reported CNBC. While many pundits believed the UAW would only strike against Stellantis as the company has signaled it intends to close or sell 18 of its U.S. facilities, the union also struck against Ford and General Motors.
While the length of the strike is unknown, the union has been said to only have five weeks of strike pay available for its members whereas automakers like Ford has more than two months of inventory on-hand.
Regardless, should the strike continue for too long, it could potentially have negative affects on the U.S. economy along the line of hundreds of millions in lost GDP.
Next Week's Gameplan
Next week's big catalyst is the Federal Reserve meeting and rate change (or lack thereof) announcement coming on Wednesday.
While I personally have no reason to think Fed Chair Jerome Powell will surprise the markets and raise rates, that is always a possibility, so I have that catalyst as part of my gameplan.
Additionally, the political rhetoric regarding the U.S. budget negotiations started to pick up heat this week. I anticipate we'll hear even more as we get closer and closer to the deadline at the end of the month. While the markets sailed through the debt ceiling negotiations with nary a pullback, I wonder if we'll be so lucky this time.
Have a great week! I'll see you all back here next Friday!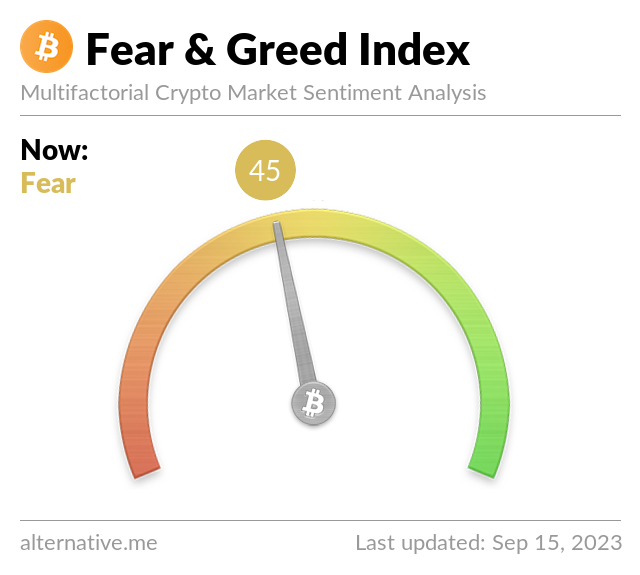 Click chart for enlarged version
Bitcoin Price Action
Bitcoin broke key support levels, but recovered quickly…
On Monday, Bitcoin encountered incredible upside resistance and broke down significantly, slicing through the support levels at $25,350.00 and $25,234.76 before finding a bottom at $24,900, above a very key level of support at $24,750.00.
While the price action looked grim, the crypto quickly turned around and rallied, breaking through the previous weekly resistance at $26,460.41 before setting a new weekly high at $26,869.06 on Thursday.
Bitcoin has once again established a range where it needs to hold support and make higher-highs to continue the rally. If it loses support, much lower lows are likely in store.
The Bullish Case
Bulls believe the higher low from the bottom in June indicates a lot of buyers at this level, perhaps institutions like Blackrock preparing for their spot ETF. From here, the Bulls believe Bitcoin has set its new bottom and potentially broken the downtrend the crypto has been in since July.
The Bearish Case
Bears still believe Bitcoin has much lower to go and that this relief rally will be short-lived. Bears continue to point to seasonal weakness and potentially higher interest rates as reasons Bitcoin will remain under severe selling pressure going forward.
Current Allocation: 2.000% (+0.163% since last update)
Current Per-Coin Price: $27,710.76 (-0.64% since last update)
Current Profit/Loss Status: -4.52% (+2.71% since last update)
My buy orders started filling this week with my first at $25,585.26 on Monday. After a filling a series of other buys over the course of the week, I was left with an average buying price of $25,299.60 (after trading fees).
The buys lowered my per-coin cost -0.64% from $27,890.49 down to $27,710.76 and raised my allocation +0.163% from 1.873% to 2.000%. Despite Bitcoin breaking key support, I will continue making buys at past levels of support if Bitcoin should retest them as I'd like to increase my allocation further at these levels.
Bitcoin Buying Targets
Using Moving Averages and supporting trend-lines as guides, here is my plan for my next ten (10) buying quantities and prices:
0.027% @ $25,537
0.027% @ $25,178
0.027% @ $24,964
0.027% @ $24,771
0.027% @ $24,509
0.027% @ $24,316
0.027% @ $23,964
0.027% @ $23,488
0.027% @ $23,060
0.038% @ $22,625
Not Your Keys, Not Your Crypto…
In light of brokerage failures in 2022, I no longer keep any of my crypto on an exchange and I only keep enough USD on the exchanges I use to execute my next few buys. I use multiple cold wallets from the brands Ledger and Trezor to hold my crypto (click the links to access the direct sites, and I receive no affiliate benefits from these links).
Additionally, I have now divided my allocated USD between two different exchanges – Gemini and Coinbase – in case one (or both) becomes insolvent. Disclaimer: We both receive a bonus if you use either my Gemini or Coinbase referral links to open accounts.
I do not trust anyone in the space, even with Coinbase (COIN) being publicly traded (and one of my own Investments in Play positions).
No price target is unrealistic in the cryptocurrency space –
Bullish

or

Bearish

.

While traditional stock market investors and traders may think the price targets in the cryptocurrency space are outlandish due to the incredible spread (possible moves include drops of -90% or more and gains of +1000% or more), Bitcoin has demonstrated that, more than any speculative asset, its price is capable of doing anything.

Here are some of Bitcoin's price movements over the past couple of years:
In 2017, Bitcoin rose +2,707% from its January low of $734.64 to make an all-time high of $19,891.99 in December.
Then, Bitcoin crashed nearly -85% from its high to a December 2018 low of $3128.89.
In the first half of 2019,

Bitcoin rallied +343%

to $13,868.44.
In December, Bitcoin crashed -54% to a low of $6430.00 in December 2019.
In February 2020, Bitcoin rallied +64% to $10,522.51.
In March , Bitcoin crashed nearly -63% to a low of $3858.00,

mostly in 24 hours

.
Then, Bitcoin rallied +988% to a new all-time high of $41,986.37 in January 2021.
Later in January 2021,

Bitcoin dropped -32%

 to a low of $28,732.00.
In February, Bitcoin rallied +103% to a new all-time high of $58,367.00.
Later in February, Bitcoin dropped -26% to a low of $43,016.00.
In April , Bitcoin rallied +51% to a new all-time high of $64,896.75.
In June , Bitcoin crashed -56% to a low of $28,800.00.
In November, Bitcoin rallied +140% to a new all-time high of $69,000.00.
In November 2022, Bitcoin crashed -78% to a low of $15,460.00.
In April 2023, Bitcoin rallied +101% to a high of $31,050.00.
In June, Bitcoin dropped -20% to a low of $24,750.00
In July, Bitcoin rallied +29% to a high of $31,862.21.
In September, Bitcoin dropped -22% to a low of $24,900.00.
Where will Bitcoin go from here? Truly, anything is possible…
What if Bitcoin's headed to zero?
The only reason I speculate in the cryptocurrency space is I truly believe Bitcoin
isn't
headed to zero. I am prepared for that possibility, however, by knowing I could potentially lose all of the capital I've allocated to this speculative investment. Professional advisers recommend speculating with no more than
5%
of an investor's overall assets. Personally, I've allocated less than that to speculating in crypto. I feel that anyone who doesn't fully believe in the long-term viability of cryptocurrency would be better served
not
speculating in the space. On a good day, this asset class isn't suitable for those with weak stomachs. On volatile days, the sector can induce nausea in the most iron-willed speculator. If a speculator isn't confident in the space, the moves
will
cause mistakes to be made.
DISCLAIMER: Anyone considering speculating in the crypto sector should only do so with funds they are prepared to lose completely. All interested individuals should consult a professional financial adviser to see if speculation is right for them. No Get Irked contributor is a financial professional of any kind.
Ways to give back to 
Get
Irked:
If you use Brave, you can also use the Tip function to tip me in Basic Attention Token (BAT).
Suicide Hotline – You Are Not Alone
Studies show that economic recessions cause an increase in suicide, especially when combined with thoughts of loneliness and anxiety. If you or someone you know are having thoughts of suicide or self-harm, please contact the National Suicide Prevention Lifeline by
visiting www.suicidepreventionlifeline.org
or calling 1-800-273-TALK. The hotline is open 24 hours a day, 7 days a week.