Summing Up The Week
The stock market was choppy but overall showed very limited movement throughout this week, likely due to the end of the month, end of the second quarter, and end of the first half of the year all coinciding together.
Many investment firms need to show they were holding the biggest winners while trading firms often need to close both bullish and bearish positions before the end of the quarter. As a result, there is often unusual trading activity, however rarely is there a particularly significant movement barring outside forces and catalyst news.
Let's take a look at the news that moved the markets this week…
Powell says more 'restriction' is coming
During a monetary policy session in Portugal, Federal Reserve Chair Jerome Powell reiterated that the central bank intends to continue raising rates as a result of a labor market that refuses to weaken, reported CNBC.

"We believe there's more restriction coming," Powell said in a panel discussion with CNBC's Sara Eisen. "What's really driving it … is a very strong labor market.
Not only did Powell once again say that the Fed plans to hike rates at least twice more, he also pointed out that the Fed may perform the hikes in back-to-back meetings rather than pausing or skipping as they had in June. "I wouldn't take, you know, moving at consecutive meetings off the table," he said.
While the stock market held up fairly well in spite of his hawkish comments, likely because Powell didn't really present new information, some of the more bullish analysts who were hoping for additional pauses and even rate cuts were thrown off a bit.
Banks pass severe recession scenario stress test
On Wednesday evening, the Federal Reserve announced 23 of the biggest banks weathered its severe recession scenario stress test, reported CNBC. Ironically, while the stress tests do push the banks to their limits on a variety of potential devastating economic scenarios, the stress tests do not test for what caused the regional banking crisis in March – overextension of long-dated U.S. treasurys with an underwater interest rate compared with the Fed benchmark rate.
Regardless, the Fed was pleased with the results of its stress tests. "Today's results confirm that the banking system remains strong and resilient," Michael Barr, vice chair for supervision at the Fed, said in the release. "At the same time, this stress test is only one way to measure that strength. We should remain humble about how risks can arise and continue our work to ensure that banks are resilient to a range of economic scenarios, market shocks, and other stresses."
U.S. GDP actually 2% in Q1, revised up from 1.3%
On Thursday, the Commerce Department revised the United States' Gross Domestic Product (GDP), the measurement of the economy, to show an increase of 2% in the first quarter, up from the 1.3% originally reflected, reported CNBC. The revised number stemmed from consumer expenditures and exports which were both stronger than previously reported.
While a strong economy is certainly good news, some analysts warn that both the economy and the stock market may not quite be out of the woods, yet.
"Overall, however, the economy remains admirably resilient, and odds of a recession beginning this year are receding, but the coast is far from clear," said Scott Hoyt, Senior Direct at Moody's Analytics. "Obviously, while the baseline forecast calls for the economy to skirt recession, risks are extremely high. It would take little to push the economy into recession."
PCE gauge shows lowest inflation since April 2021, still sticky
On Friday, the Personal Consumption Expenditures (PCE) index showed a rise of 0.1% in May and a gradual easing in inflation, though prices continue to rise in key parts of the U.S. economy, reported MarketWatch.
Basically, inflation is slowing but it still remains too high for the Federal Reserve, indicating that the Fed will likely hike rates when they meet in late July as Chairman Powell has iterated repeatedly. 
"Right now, the Fed's job is not clear cut," said chief investment officer George Mateyo at Key Private Bank. "Next week's June employment report will be the next major data point to assess and likely the key indicator in determining the Fed's next move."
Next Week's Gameplan
Next week represents the start of July and the summer months have been notoriously volatile in prior years. For example, the markets rallied significantly from mid-June all the way until the end of August.
However, as I mentioned last week, with some analysts believing that 2023 might be the inverse of 2022, we could see some profit-taking and a garden-variety correction pullback of 5-7% in the S&P 500.
Will we? Well, we'll just have to wait and see!
I'll see you all back here next Friday!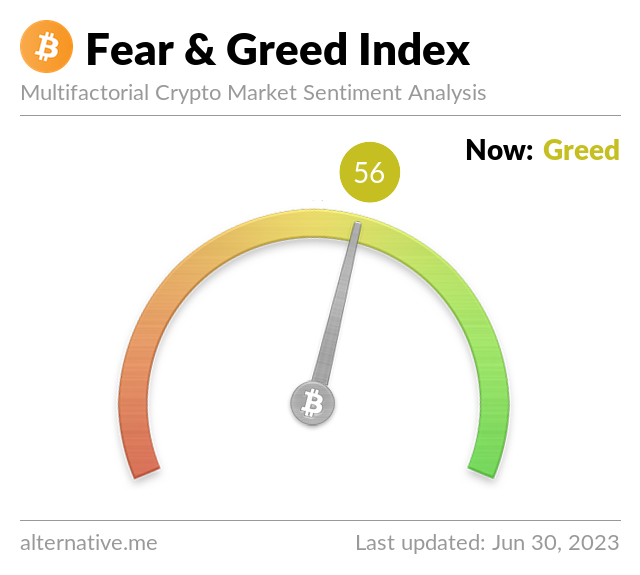 Click chart for enlarged version
Bitcoin Price Action
Bitcoin's consolidating… again.
Bitcoin made a new Year-To-Date (YTD) high last Saturday, breaking through the previous 2023 high at $31,050.00 to set the new level of resistance at $31,443.67.
The crypto spent the rest of the week rangebound, setting a new weekly low on Wednesday at $29,840.00 where buyers took the opportunity to snag up some Bitcoin at prices sub-$30K. If Bitcoin breaks through the upside, analysts forecast it could rally as high as $34-$37K before finding additional resistance.
On Friday, Bitcoin broke down through its weekly support at $29,840, not finding new support  until $29,417.14. If the selloff continues, key levels of support start around $26,700 followed by June's low at $24,750.00. 
The Bullish Case
Bulls remain positive about the recent news of institutional buying in the space. Additionally, Bulls believe BlackRock's spot Bitcoin ETF will actually be approved by the SEC as BlackRock has a track record of not proposing products without being fairly certain they will be approved. Additionally, Bitcoin's resilience over the past week certainly adds credence to the bull case.
The Bearish Case
Bears remain bearish on Bitcoin, arguing that macroeconomic and global concerns will eventually cause the crypto to sell off. Despite evidence to the contrary, some Bears remain steadfast that Bitcoin's $15,460.00 low from 2022 will not hold. However, at this point, Bitcoin's price action has been contrary to any Bear case.
Current Allocation: 0.367% (+0.100% since opening trade)
Current Per-Coin Price: $30,615.08 (-0.68% since opening trade)
Current Profit/Loss Status: +3.91% (NEW since last update)
*Trade Closed: +3.43% in gains in 8 days*
Given Bitcoin's relative strength around the $30K level, I decided to once again close my trade, take the profits, and reopen the trade at a higher cost basis. Doing so locked in only +3.43% in gains – not my greatest profit – but left me with a new cost basis at $30,825.00 and an allocation of 0.267%.
By locking in my gains and resetting the trade, I can now take the opportunity to size up more aggressively without feeling like I'm damaging the trade by raising my cost basis. Naturally, I still have a stupidly tiny allocation, so risk is more than sufficiently mitigated, even at these high price levels.
Building the Position
During Bitcoin's sudden drop Friday morning, I added to the position three times starting at $30,284.10 and ending at $29,690.70, giving me an average buying price of $30,069.16 (after fees).
The combined buys lowered my per-coin cost -0.68% from $30,825.00 to $30,615.08 and raised my allocation +0.100% from 0.267% to 0.367%.
Bitcoin Buying Targets
Using Moving Averages and supporting trend-lines as guides, here is my plan for my next ten (10) buying quantities and prices:
0.027% @ $29,118
0.027% @ $28,380
0.055% @ $27,566
0.055% @ $26,669
0.082% @ $25,958
0.082% @ $25,392
0.082% @ $24,881
0.109% @ $23,957
0.268% @ $22,708
0.142% @ $22,273
Not Your Keys, Not Your Crypto…
In light of brokerage failures in 2022, I no longer keep any of my crypto on an exchange and I only keep enough USD on the exchanges I use to execute my next few buys. I use multiple cold wallets from the brands Ledger and Trezor to hold my crypto (click the links to access the direct sites, and I receive no affiliate benefits from these links).
Additionally, I have now divided my allocated USD between two different exchanges – Gemini and Coinbase – in case one (or both) becomes insolvent. Disclaimer: We both receive a bonus if you use either my Gemini or Coinbase referral links to open accounts.
I do not trust anyone in the space, even with Coinbase (COIN) being publicly traded (and one of my own Investments in Play positions).
No price target is unrealistic in the cryptocurrency space –
Bullish

or

Bearish

.

While traditional stock market investors and traders may think the price targets in the cryptocurrency space are outlandish due to the incredible spread (possible moves include drops of -90% or more and gains of +1000% or more), Bitcoin has demonstrated that, more than any speculative asset, its price is capable of doing anything.

Here are some of Bitcoin's price movements over the past couple of years:
In 2017, Bitcoin rose +2,707% from its January low of $734.64 to make an all-time high of $19,891.99 in December.
Then, Bitcoin crashed nearly -85% from its high to a December 2018 low of $3128.89.
In the first half of 2019,

Bitcoin rallied +343%

to $13,868.44.
In December 2019, Bitcoin crashed -54% to a low of $6430.00 in December 2019.
In February 2020, Bitcoin rallied +64% to $10,522.51.
In March 2020, Bitcoin crashed nearly -63% to a low of $3858.00,

mostly in 24 hours

.
Then, Bitcoin rallied +988% to a new all-time high of $41,986.37 in January 2021.
Later in January, 

Bitcoin dropped -32%

 to a low of $28,732.00.
In February 2021, Bitcoin rallied +103% to a new all-time high of $58,367.00.
Later in February, Bitcoin dropped -26% to a low of $43,016.00.
In April 2021, Bitcoin rallied +51% to a new all-time high of $64,896.75.
In June 2021, Bitcoin crashed -56% to a low of $28,800.00.
In November 2021, Bitcoin rallied +140% to a new all-time high of $69,000.00.
In November 2022, Bitcoin crashed -78% to a low of $15,460.00.
In April 2023, Bitcoin rallied +101% to a high of $31,050.00.
In June 2023, Bitcoin dropped -20% to a low of $24,750.00
Later In June, Bitcoin rallied +27% to a high of $31,423.67.
Where will Bitcoin go from here? Truly, anything is possible…
What if Bitcoin's headed to zero?
The only reason I speculate in the cryptocurrency space is I truly believe Bitcoin
isn't
headed to zero. I am prepared for that possibility, however, by knowing I could potentially lose all of the capital I've allocated to this speculative investment. Professional advisers recommend speculating with no more than
5%
of an investor's overall assets. Personally, I've allocated less than that to speculating in crypto. I feel that anyone who doesn't fully believe in the long-term viability of cryptocurrency would be better served
not
speculating in the space. On a good day, this asset class isn't suitable for those with weak stomachs. On volatile days, the sector can induce nausea in the most iron-willed speculator. If a speculator isn't confident in the space, the moves
will
cause mistakes to be made.
DISCLAIMER: Anyone considering speculating in the crypto sector should only do so with funds they are prepared to lose completely. All interested individuals should consult a professional financial adviser to see if speculation is right for them. No Get Irked contributor is a financial professional of any kind.
Ways to give back to 
Get
Irked:
If you use Brave, you can also use the Tip function to tip me in Basic Attention Token (BAT).
Suicide Hotline – You Are Not Alone
Studies show that economic recessions cause an increase in suicide, especially when combined with thoughts of loneliness and anxiety. If you or someone you know are having thoughts of suicide or self-harm, please contact the National Suicide Prevention Lifeline by
visiting www.suicidepreventionlifeline.org
or calling 1-800-273-TALK. The hotline is open 24 hours a day, 7 days a week.