Summing Up The Week
This week was all about peak inflation being over and the entire market rallying over the excitement that the Federal Reserve Bank may start to pull back on its fight against inflating prices.
Let's take a look at the news that moved the markets this week…
Consumers expect less inflation, a 'win' for the Fed?
On Monday, the New York Federal Reserve's monthly Survey of Consumer Expectations revealed respondents expect inflation to increase at 6.2% over the next and 3.2% for the following three years, a decent reduction from the 6.8% and 3.6% numbers, respectively, from the June survey, reported CNBC.
Pundits took the expectations for "not-as-bad" inflation rates as a sign that the Federal Reserve's fight against inflation may be making progress. However, remember that any amount of inflation over 0% is an increase in prices from current levels. In other words, if we do have a 6.2% rate of inflation over the next year, that means the cost for gas, food, rent, and other expenses will increase by 6.2% over the prices they are now.
So, while respondents reducing their expectations is positive, inflation is still very, very real and the Fed has a long way to go before we see the ever-increasing cost of, well, everything, stop increasing. Will it ever decrease? That's even harder to say.
CPI rages 8.5% in July, but less than expected… market rallies!
On Wednesday, the Consumer Price Index revealed a rise in prices of 8.5% in July versus expectations for 8.7%, reported CNBC. Additionally, "core" CPI which excluded food and energy prices, rose 5.9% annually versus the expectation of 6.1%. As a result, markets rallied under the premise that inflation has peaked and the rate of inflation is slowing.
Of course, normal humans know that prices still increasing 8.5% is horrendous, but, for the crazy market, any number lower than expectations is considered good news. "Things are moving in the right direction," said Aneta Markowska, Chief Economist at Jefferies, an investment firm. "This is the most encouraging report we've had in quite some time."
Many analysts believe this decreasing CPI figure indicates the Fed may deliver a rate hike less than the expected 0.75% increase. "At the very least, this report takes the pressure off the Fed at the next meeting," Markowska said. "They've been saying they're ready to deliver a 75 basis point hike if they have to. I don't think they have to anymore."
Producer Prices decreased 0.5% in July, +9.8% YoY gain
On Thursday, the Bureau of Labor Statistics' Producer Price Index (PPI) showed a -0.5% month-over-month decrease, its first since April 2020, beating expectations of an increase of +0.2%, reported CNBC. While a decrease in PPI is certainly good news, on an annual basis, the index has risen +9.8% since its low in October 2021.
However, even the slightest good news seems to cause all the traders and investors who have been sitting out the rally to FOMO in as the market continued its rally with exceptional gains across-the-board throughout Thursday.
Next Week's Gameplan
Despite the fact that I currently hold the smallest cash position I've had since 2018 with more than 71% invested across all of my investment portfolios, I'm trying to temper any bullish enthusiasm I might feel as we head deeper into August.
Many analysts I trust still don't have faith that the bottom is in, with some predicting that we'll actually see further upside going through August only to have the market roll over and make lower lows than we've already seen when it sells off again in September-October.
As I said last week, my analysis shows that Q3 is typically very bearish for stocks, seeing a loss of -4.5% to -20% from summer highs to the selloff lows every year for more than a decade except for 2017, the sole exception. 
So, for me, that means this remains Selling Season as I continue to take profits in any position that's seen too much of a rally, while I set my sights on adding to my positions near their 2022 selloff lows.
Have a great week everyone! See you back here next Friday!
Important Disclaimer
Get Irked contributors are not professional advisers. Discussions of positions should not be taken as recommendations to buy or sell. All investments carry risk and all readers must accept their own risks. Get Irked recommends anyone interested in investing or trading any asset class consult with a professional investment adviser to determine if an investment idea is suitable to them and their investment goals.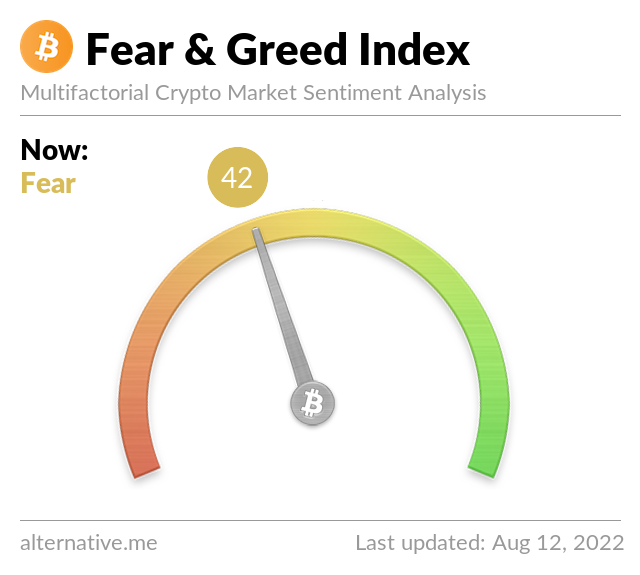 Click chart for enlarged version
Bitcoin Price Action
Is the Crypto Winter over? Bitcoin rally!
With the potential of peak inflation now getting priced in and the U.S. dollar (DXY) weakening, Bitcoin saw a big rally this week. The crypto broke through its monthly high at $24,666.00 to set a new high at $24,929.99 on Thursday. 
To break higher from here, Bitcoin must crack its new $24,929.99 high, and to drop to lower lows, it must get through its weekly low at $22,392.88. Without a break of those resistance and support lines, the crypto will remain rangebound.
The Bullish Case
Bulls point to the week's CPI number as the end of the Crypto Winter for Bitcoin, claiming that its current rally represents the start of the next big Bull Market, with many analysts claiming that Bitcoin's back on its way to $69K and all-new highs.
The Bearish Case
Bears argue that while Bitcoin's rally since its $17,567.45 low in June has proven quite resilient that the markets are heading into a historically weak time across the board. Even in crypto, Q3 of nearly every year sees significant pullbacks with the S&P pulling back between -4.5% to -20% between its August highs and the end of the year nearly every for more than a decade with 2017 being the only upside exception.
Current Allocation: 15.513% (-0.384% since last update)
Current Per-Coin Price: $23,792.46 (-0.020% since last update)
Current Profit/Loss Status: +0.186% (+2.328% since last update)
Bitcoin rose over my per-coin price once more this week, leading me to peel some profits off the table on Tuesday, Wednesday, and Thursday with an average selling price of $23,988.49 (after trading fees). 
At this point, I'm still only taking very small quantities out, so the sales lowered my per-coin cost a negligible -0.020% from $23,797.16 to $23,792.46. However, reducing the allocation was the more important goal, and it was dropped -0.384% from 15.897% to 15.513%. My next sell target is near Bitcoin's recent monthly high.
Bitcoin Buying Targets
Using Moving Averages and supporting trend-lines as guides, here is my plan for my next ten (10) buying quantities and prices:
0.139% @ $22,266
0.139% @ $21,390
0.139% @ $20,969
0.139% @ $19,762
0.139% @ $19,320
0.278% @ $18,506
0.557% @ $17,609
1.113% @ $16,236
1.392% @ $15,277
1.670% @ $14,207
No price target is unrealistic in the cryptocurrency space –
Bullish

or

Bearish

.

While traditional stock market investors and traders may think the price targets in the cryptocurrency space are outlandish due to the incredible spread (possible moves include drops of -90% or more and gains of +1000% or more), Bitcoin has demonstrated that, more than any speculative asset, its price is capable of doing anything.

Here are some of Bitcoin's price movements over the past couple of years:
In 2017, Bitcoin rose +2,707% from its January low of $734.64 to make an all-time high of $19,891.99 in December.
Then, Bitcoin crashed nearly -85% from its high to a December 2018 low of $3128.89.
In the first half of 2019,

Bitcoin rallied +343%

to $13,868.44.
In December 2019, Bitcoin crashed -54% to a low of $6430.00 in December 2019.
In February 2020, Bitcoin rallied +64% to $10,522.51.
In March 2020, Bitcoin crashed nearly -63% to a low of $3858.00,

mostly in 24 hours

.
Then, Bitcoin rallied +988% to a new all-time high of $41,986.37 in January 2021.
Later in January, 

Bitcoin dropped -32%

 to a low of $28,732.00.
In February 2021, Bitcoin rallied +103% to a new all-time high of $58,367.00.
Later in February, Bitcoin dropped -26% to a low of $43,016.00.
In April 2021, Bitcoin rallied +51% to a new all-time high of $64,896.75.
In June 2021, Bitcoin crashed -56% to a low of $28,800.00.
In November 2021, Bitcoin rallied +140% to a new all-time high of $69,000.00.
In June 2022, Bitcoin crashed -75% to a low of $17,567.45.
In August 2022, Bitcoin rallied +42% to a high of $24,929.99.
Where will Bitcoin go from here? Truly, anything is possible…
What if Bitcoin's headed to zero?
The only reason I speculate in the cryptocurrency space is I truly believe Bitcoin isn't headed to zero.
I am prepared for that possibility, however, by knowing I could potentially lose all of the capital I've allocated to this speculative investment. Professional advisers recommend speculating with no more than 5% of an investor's overall assets. Personally, I've allocated less than that to speculating in crypto.
I feel that anyone who doesn't fully believe in the long-term viability of cryptocurrency would be better served not speculating in the space.
On a good day, this asset class isn't suitable for those with weak stomachs. On volatile days, the sector can induce nausea in the most iron-willed speculator. If a speculator isn't confident in the space, the moves will cause mistakes to be made.
DISCLAIMER: Anyone considering speculating in the crypto sector should only do so with funds they are prepared to lose completely. All interested individuals should consult a professional financial adviser to see if speculation is right for them. No Get Irked contributor is a financial professional of any kind.
Ways to give back to 
Get
Irked:
If you use Brave, you can also use the Tip function to tip me in Basic Attention Token (BAT).
Suicide Hotline – You Are Not Alone
Studies show that economic recessions cause an increase in suicide, especially when combined with thoughts of loneliness and anxiety.
If you or someone you know are having thoughts of suicide or self-harm, please contact the National Suicide Prevention Lifeline by visiting www.suicidepreventionlifeline.org or calling 1-800-273-TALK.
The hotline is open 24 hours a day, 7 days a week.